So I got this idea from my friend Sarah's blog, who tries to do this once a week. I have over 2,000 books on my TBR, so I think parsing this down every so often would be really great. I'm going to attempt to do this at least once a week, however, instead of doing the last 10 books added, I'm going to randomly select 10 books.
Here are the rules:
Go to your goodreads to-read shelf.
Order on ascending date added.
Take the first 5 (or 10 if you're feeling adventurous) books
Read the synopses of the books
Decide: keep it or should it go?
The only thing I do differently is I randomly select a page number, and a book number, and decide if those should be kept or if they should go. Here we go!
Vanishing Acts – Jodi Picoult
Delia Hopkins has led a charmed life. Raised in rural New Hampshire by her widowed father, Andrew, she now has a young daughter, a handsome fiance, and her own search-and-rescue bloodhound, which she uses to find missing persons. But as Delia plans her wedding, she is plagued by flashbacks of a life she can't recall. And then a policeman knocks on her door, revealing a secret that changes the world as she knows it." In shock and confusion, Delia must sift through the truth – even when it jeopardizes her life and the lives of those she loves. What happens when you learn you are not who you thought you were? When the people you've loved and trusted suddenly change before your eyes? When getting your deepest wish means giving up what you've always taken for granted? Vanishing Acts explores how life – as we know it – might not turn out the way we imagined; how doing the right thing could mean doing the wrong thing; how the memory we thought had vanished could return as a threat. 
My mom LOVES Jodi Picoult and I haven't actually read any of her work. For that, I'll keep it, since a lot of readers I respect love this.
The Readers of Broken Wheel Recommend – Katarina Bivald & Alice Menzies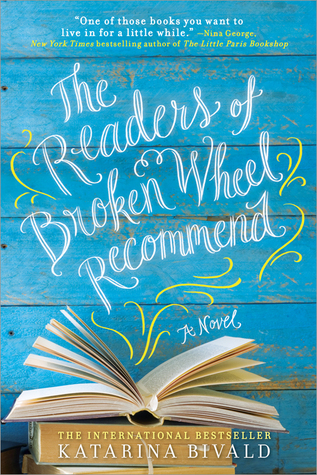 Once you let a book into your life, the most unexpected things can happen…
Broken Wheel, Iowa, has never seen anyone like Sara, who traveled all the way from Sweden just to meet her pen pal, Amy. When she arrives, however, she finds that Amy's funeral has just ended. Luckily, the townspeople are happy to look after their bewildered tourist—even if they don't understand her peculiar need for books. Marooned in a farm town that's almost beyond repair, Sara starts a bookstore in honor of her friend's memory. 
All she wants is to share the books she loves with the citizens of Broken Wheel and to convince them that reading is one of the great joys of life. But she makes some unconventional choices that could force a lot of secrets into the open and change things for everyone in town. Reminiscent of The Guernsey Literary and Potato Peel Pie Society, this is a warm, witty book about friendship, stories, and love.
This book seems to be one people either love or they hate, and a lot of people who I respect LOVE this book. I'm also a huge sucker for works in translation as well as books about books. For that, I'm going to keep.
Essex Boy – Kirk Norcross
An honest, cheeky and charming autobiography of the popular star of The Only Way Is Essex.
One of the original cast members of the award-winning reality series The Only Way is Essex, Kirk is often portrayed as the good-looking rich kid, splashing out thousands on bottles of champagne and dating glamorous women like Amy Childs and Lauren Pope.
But there's a lot more to Kirk, and the reality is that the first eighteen years of his life tell a very different story – one he is only now ready to reveal. A childhood marred by poverty, as Kirk moved between a hostel and a council house on a tough estate, left him suffering from panic attacks and crippling self-doubt.
Reconciling with his dad, by now a millionaire, thrust him into a very different world – one with its own set of challenges. Opening up for the first time about the two sides of his Essex life, Kirk also tells us about his rise to fame on TOWIE, his much-followed romances, and who his real friends are.
Hulu has a ton of episodes of the British Hills basically, called TOWIE. I was obsessed (a bit) but never fully caught up. Then I realized they all wrote memoirs. I don't really pay attention to them anymore, for that, I'm going to ditch this.
The Devil in the White City – Erik Larson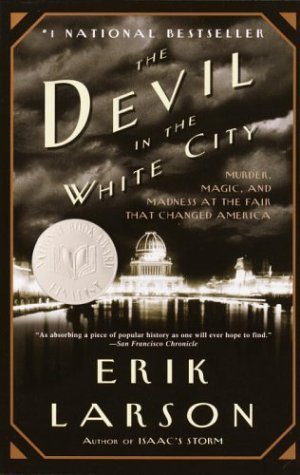 Bringing Chicago circa 1893 to vivid life, Erik Larson's spell-binding bestseller intertwines the true tale of two men–the brilliant architect behind the legendary 1893 World's Fair, striving to secure America's place in the world; and the cunning serial killer who used the fair to lure his victims to their death. Combining meticulous research with nail-biting storytelling. Erik Larson has crafted a narrative with all the wonder of newly discovered history and the thrills of the best fiction. 
I love American History and I also love things like crime documentaries. I haven't really dove into true crime novels, but I know I'd probably really like them. I'm going to keep this one.
Traffick – Ellen Hopkins
Five teens victimized by sex trafficking try to find their way to a new life in this riveting companion to the New York Times bestselling Tricks from Ellen Hopkins, author of Crank.
In her bestselling novel, Tricks, Ellen Hopkins introduced us to five memorable characters tackling these enormous questions: Eden, the preacher's daughter who turns tricks in Vegas and is helped into a child prostitution rescue; Seth, the gay farm boy disowned by his father who finds himself without money or resources other than his own body; Whitney, the privileged kid coaxed into the life by a pimp and whose dreams are ruined in a heroin haze; Ginger, who runs away from home with her girlfriend and is arrested for soliciting an undercover cop; and Cody, whose gambling habit forces him into the life, but who is shot and left for dead.
And now, in Traffick, these five are faced with the toughest question of all: Is there a way out? How these five teenagers face the aftermath of their decisions and experiences is the soul of this story that exposes the dark, ferocious underbelly of the child trafficking trade. Heartwrenching and hopeful, Traffick takes us on five separate but intertwined journeys through the painful challenges of recovery, rehabilitation, and renewal to forgiveness and love. All the way home.
I love Ellen Hopkins! Nothing I read by her ever lets me down, so this is a keep for sure.
Catalyst – Laurie Halse Anderson
Meet Kate Malone—straight-A science and math geek, minister's daughter, ace long-distance runner, new girlfriend (to Mitchell "Early Decision Harvard" Pangborn III), unwilling family caretaker, and emotional avoidance champion. Kate manages her life by organizing it as logically as the periodic table. She can handle it all—or so she thinks. Then, things change as suddenly as a string of chemical reactions; first, the Malones' neighbors get burned out of their own home and move in. Kate has to share her room with her nemesis, Teri Litch, and Teri's little brother. The days are ticking down and she's still waiting to hear from the only college she applied to: MIT. Kate feels that her life is spinning out of her control—and then, something happens that truly blows it all apart. Set in the same community as the remarkable Speak, Catalyst is a novel that will change the way you look at the world.
I have never read a Laurie Halse Anderson book, but looking at the reviews I'm not sure this is the right place to start. It seems like if you're a huge fan of hers, you'll like this book, but I think I'm going to ditch this one.
Christine – Stephen King
"This is the story of a lover's triangle…It was bad from the start. And it got worse in a hurry."
It's love at first sight for high school student Arnie Cunningham when he and his best friend Dennis Guilder spot the dilapidated 1958 red-and-white Plymouth Fury for sale—dubbed "Christine" by its original cantankerous owner—rusting away on a front lawn of their suburban Pennsylvania neighborhood. Dennis knows that Arnie's never had much luck in the looks or popularity department, or really taken an interest in owning a car . . . but Christine quickly changes all that. Arnie suddenly has the newfound confidence to stick up for himself, going as far as dating the most beautiful girl at Libertyville High—transfer student Leigh Cabot—even as a mysteriously restored Christine systematically and terrifyingly consumes every aspect of Arnie's life. Dennis and Leigh soon realize that they must uncover the awful truth behind a car with a horrifying and murderous history. Hell hath no fury like a woman scorned, and heaven help anyone who gets in Christine's way…
This book is only on my TBR because it's part of the Rory Gilmore challenge. I don't like horror, and because of that, I don't read Stephen King. So I'm going to ditch this one.
The Rules Do Not Apply – Ariel Levy
When thirty-eight-year-old New Yorker writer Ariel Levy left for a reporting trip to Mongolia in 2012, she was pregnant, married, financially secure, and successful on her own terms. A month later, none of that was true. 
Levy picks you up and hurls you through the story of how she built an unconventional life and then watched it fall apart with astonishing speed. Like much of her generation, she was raised to resist traditional rules–about work, about love, and about womanhood. 
"I wanted what we all want: everything. We want a mate who feels like family and a lover who is exotic, surprising. We want to be youthful adventurers and middle-aged mothers. We want intimacy and autonomy, safety and stimulation, reassurance and novelty, coziness and thrills. But we can't have it all."
In this memoir, Levy chronicles the adventure and heartbreak of being "a woman who is free to do whatever she chooses." Her own story of resilience becomes an unforgettable portrait of the shifting forces in our culture, of what has changed–and of what is eternal.
Some people really really don't like this book, and I actually knew this before I put it on my TBR. Levy apparently is not likeable at all, but extremely real. I'd still like to try this book, so this is a keep.
An Acceptable Time – Madeleine L'Engle
A flash of lightning, quivering ground, and, instead of her grandparents' farm, Polly sees mist and jagged mountains — and coming toward her, a group of young men carrying spears. Why has a time gate opened and dropped Polly into a world that existed 3,000 years ago? Will she be able to get back to the present before the time gate closes — and leaves her to face a group of people who believe in human sacrifice?
I love Madeleine L'Engle and I'm due for a reread. So this is a keep.
The Secret Lives of People in Love – Simon Van Booy
"Simon Van Booy's stories have the power and resonance of poems. They stay with you like a significant memory."—Roger Rosenblatt
"Van Booy is a remarkable young writer. Taste, touch, smell, sight and sound, in spite of their evanescence, are frozen for a moment in these stories and celebrated, along with their subtle interconnection, in all the aspects of love."—Fred Volkmer
The Secret Lives of People in Love is the first short story collection by award-winning writer Simon Van Booy. These stories, set in Kentucky, New York, Paris, Rome, and Greece, are a perfect synthesis of grace, intensity, atmosphere, and compassion. Love, loss, frailty, human contact, and isolation are Van Booy's themes. In radiant prose he writes about the difficult choices we make in order to retain our humanity and about the redemptive power of love in a violent world.
Born in London, Simon Van Booy grew up in Wales. A keen rugby player, he was recruited to play football for Campbellsville University in Kentucky. He eventually returned to England, where he graduated from Dartington College of Arts. Now a New Yorker, he teaches at the School of Visual Arts and in the Bard College Clemente Course. As a freelance journalist, he writes for several New York newspapers. He has won a first-place award for in-depth reporting from the New York Press Association.
The ratings on this are so dang good I'm going to keep. I do remember starting this though and moving on to something else.
In summary:
I kept 70% of the books presented in this round:
"Vanishing Acts" by Jodi Picoult
"The Readers of Broken Wheel Recommend" by Katarina Bivala & Alice Menzies
"Devil in the White City" by Erik Larson
"Traffick" by Ellen Hopkins
"The Rules Do Not Apply" by Ariel Levy
"An Acceptable Time" by Madeleine L'Engle
"Secret Lives of People in Love" by Simon Van Booy
I ditched 30% of the books presented in this round:
"Essex Boy" by Kirk Norcross
"Catalyst" by Laurie Halse Anderson
"Christine" by Stephen King
(this post does contain affiliate links that help me keep the site going. please consider purchasing using these links if you're interested in this book! thanks so much xo r)
Follow Rachel Reading: GoodReads | Instagram | Facebook | BlogLovin