So I got this idea from my friend Sarah's blog, who tries to do this once a week. I have over 2,000 books on my TBR, so I think parsing this down every so often would be really great. I'm going to attempt to do this at least once a week, however, instead of doing the last 10 books added, I'm going to randomly select 10 books.
Here are the rules:
Go to your goodreads to-read shelf.
Order on ascending date added.
Take the first 5 (or 10 if you're feeling adventurous) books
Read the synopses of the books
Decide: keep it or should it go?
The only thing I do differently is I randomly select a page number, and a book number, and decide if those should be kept or if they should go. Here we go!
The Crimson Petal and the White – Michel Faber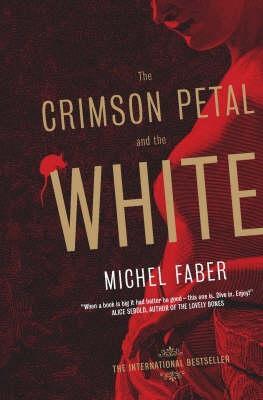 Sugar, 19, prostitute in Victorian London, yearns for a better life. From brutal brothel-keeper Mrs Castaway, she ascends in society. Affections of self-involved perfume magnate William Rackham soon smells like love. Her social rise attracts preening socialites, drunken journalists, untrustworthy servants, vile guttersnipes, and whores of all kinds.
So, when I see the words "old prostitute saga" in a review that is five stars, plus a million five star reviews, I think this one I have to keep.
Evicted: Poverty and Profit in the American City – Matthew Desmond
From Harvard sociologist and MacArthur "Genius" Matthew Desmond, a landmark work of scholarship and reportage that will forever change the way we look at poverty in America
 
In this brilliant, heartbreaking book, Matthew Desmond takes us into the poorest neighborhoods of Milwaukee to tell the story of eight families on the edge. Arleen is a single mother trying to raise her two sons on the $20 a month she has left after paying for their rundown apartment. Scott is a gentle nurse consumed by a heroin addiction. Lamar, a man with no legs and a neighborhood full of boys to look after, tries to work his way out of debt. Vanetta participates in a botched stickup after her hours are cut. All are spending almost everything they have on rent, and all have fallen behind.
The fates of these families are in the hands of two landlords: Sherrena Tarver, a former schoolteacher turned inner-city entrepreneur, and Tobin Charney, who runs one of the worst trailer parks in Milwaukee. They loathe some of their tenants and are fond of others, but as Sherrena puts it, "Love don't pay the bills." She moves to evict Arleen and her boys a few days before Christmas.
Even in the most desolate areas of American cities, evictions used to be rare. But today, most poor renting families are spending more than half of their income on housing, and eviction has become ordinary, especially for single mothers. In vivid, intimate prose, Desmond provides a ground-level view of one of the most urgent issues facing America today. As we see families forced  into shelters, squalid apartments, or more dangerous neighborhoods, we bear witness to the human cost of America's vast inequality—and to people's determination and intelligence in the face of hardship.
Based on years of embedded fieldwork and painstakingly gathered data, this masterful book transforms our understanding of extreme poverty and economic exploitation while providing fresh ideas for solving a devastating, uniquely American problem. Its unforgettable scenes of hope and loss remind us of the centrality of home, without which nothing else is possible.
This book came onto my radar in the aftermath of the 2016 election. I heard that this book is an extremely hard read, but very very important. Especially for those of us who fight for social justice daily. This one is a keep.
Bohemian Gospel – Dana Chamblee Carpenter
Set against the historical reign of the Golden and Iron King, Bohemian Gospel is the remarkable tale of a bold and unusual girl on a quest to uncover her past and define her destiny.
Thirteenth-century Bohemia is a dangerous place for a girl, especially one as odd as Mouse, born with unnatural senses and an uncanny intellect. Some call her a witch. Others call her an angel. Even Mouse doesn't know who—or what—she is. But she means to find out.
When young King Ottakar shows up at the Abbey wounded by a traitor's arrow, Mouse breaks church law to save him and then agrees to accompany him back to Prague as his personal healer. Caught in the undertow of court politics at the castle, Ottakar and Mouse find themselves drawn to each other as they work to uncover the threat against him and to unravel the mystery of her past. But when Mouse's unusual gifts give rise to a violence and strength that surprise everyone—especially herself—she is forced to ask herself: Will she be prepared for the future that awaits her?
A heart-thumping, highly original tale in the vein of Elizabeth Kostova's The Historian, Bohemian Gospel heralds the arrival of a fresh new voice for historical fiction.
I am either going to really love this book, or hate it. I can tell. For that, I'm going to keep it.
Very Wicked Things – Ilsa Madden Mills
Born on the poor side of town…
Ballerina Dovey Beckham is a scholarship student at Briarcrest Academy, determined to prove she's more than just a girl with the wrong pedigree. She does whatever it takes to succeed in her endgame, even if it means surrendering her body…but never her heart. 
Until the day she meets him, and he rips apart all her well-laid plans. Suddenly, the girl everyone thought unbreakable might just shatter.
Born into wealth and privilege…
Cuba "Hollywood" Hudson is rich, spoiled, and a star football player. With his fast cars and superficial girlfriends, he lives the high-life, hiding his secrets from the world.
Until the day he meets her, and she offers him something he's never tasted… love.
But once in a lifetime kind of love doesn't come easy. When trust crumbles and doubts creep in, both will have to decide to either love or let go… forever.
Welcome to Briarcrest Academy, where sometimes, only the wicked survive
So sometimes I really want to read trashy romance books with lots of sex/erotica. However, I have a love/hate romance with New Adult books. I know that if I get in that mood, I'll find one, and maybe it will be this, but for now: ditch.
Arcadia – Lauren Groff
In the fields and forests of western New York State in the late 1960s, several dozen idealists set out to live off the land, founding what becomes a famous commune centered on the grounds of a decaying mansion called Arcadia House. 
Arcadia follows this lyrical, rollicking, tragic, and exquisite Utopian dream from its hopeful start through its heyday and after. The story is told from the point of view of Bit, a fascinating character and the first child born in Arcadia.
I was recommended this book because it is "cultish" in nature, and while it doesn't seem like my favorite typical cult books. However, I've heard really great things about
The Story (Teen Edition) – ed Randy Frazee & Max Lucado
The Story is an abridged, chronological Bible that reads like a novel. There are no verse references, and Scripture segments are seamlessly woven together with transition text into a single grand narrative. For those intimidated or overwhelmed by the unabridged Bible, The Story helps people understand God's Word more fully and engage with it more easily.
Simple, accessible, and easy to use, churches are finding The Story a powerful way to engage their people in Bible reading like never before. As The Story brings the Bible to life, the broad scope of God's message will penetrate hearts. People of all ages will be swept up in the story of God's love and God's plan for their lives.
God goes to great lengths to rescue lost and hurting people. That is what The Story is all about: the story of the Bible, God's great love affair with humanity. Condensed into 31 accessible chapters, The Story sweeps you into the unfolding progression of Bible characters and events from Genesis to Revelation. Using the clear, accessible text of the NIV Bible, it allows the stories, poems, and teachings of the Bible to read like a novel. And like any good story, The Story is filled with intrigue, drama, conflict, romance, and redemption; and this story's true! 
"This book tells the grandest, most compelling story of all time: the story of a true God who loves his children, who established for them a way of salvation and provided a route to eternity. Each story in these 31 chapters reveals the God of grace—the God who speaks; the God who acts; the God who listens; the God whose love for his people culminated in his sacrifice of Jesus, his only Son, to atone for the sins of humanity."
I've attempted this book a few times when I was a baby follower of Christ, and was really confused by a lot of it, just because I didn't have the foundation to be able to really dive into this. I'd like to read this someday though, so keep.
Nicola and the Viscount – Meg Cabot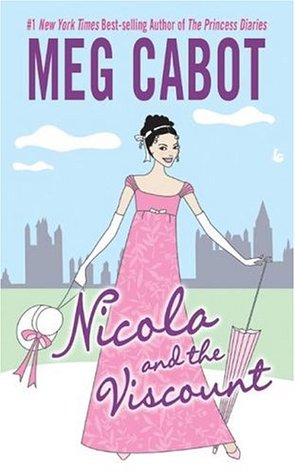 Nicola always gets what she wants.
Nicola Sparks, sixteen and an orphan, is ready to dive headlong into her first glittering London society season. She's also ready to dive headlong into the arms of handsome and debonair Lord Sebastian Bartholomew. Nicola's dream is a proposal from the viscount—a dream she's about to realize at last! So naturally, Nathaniel Sheridan's insinuations about her fiancé's flawed character annoy her mightily.
But when Nicola's natural curiosity gets the best of her, she begins to piece together a few things for herself. To her great surprise, Nicola realizes she's had the wrong viscount all along . . . but is it too late to make things right?
Meg Cabot was one of my absolute favorite authors growing up, and I never got around to this one. However, I don't know if it's something I'd actively seek out currently, so I'm going to ditch. I might get around to it someday when I'm feeling nostalgic, but in the spirit of trimming down my TBR, it's going to go.
Odd Thomas – Dean Koontz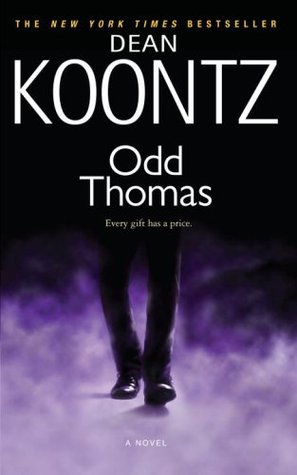 "The dead don't talk. I don't know why." But they do try to communicate, with a short-order cook in a small desert town serving as their reluctant confidant. Odd Thomas thinks of himself as an ordinary guy, if possessed of a certain measure of talent at the Pico Mundo Grill and rapturously in love with the most beautiful girl in the world, Stormy Llewellyn.
Maybe he has a gift, maybe it's a curse, Odd has never been sure, but he tries to do his best by the silent souls who seek him out. Sometimes they want justice, and Odd's otherworldly tips to Pico Mundo's sympathetic police chief, Wyatt Porter, can solve a crime. Occasionally they can prevent one. But this time it's different.
A mysterious man comes to town with a voracious appetite, a filing cabinet stuffed with information on the world's worst killers, and a pack of hyena-like shades following him wherever he goes. Who the man is and what he wants, not even Odd's deceased informants can tell him. His most ominous clue is a page ripped from a day-by-day calendar for August 15.
Today is August 14.
In less than twenty-four hours, Pico Mundo will awaken to a day of catastrophe. As evil coils under the searing desert sun, Odd travels through the shifting prisms of his world, struggling to avert a looming cataclysm with the aid of his soul mate and an unlikely community of allies that includes the King of Rock 'n' Roll. His account of two shattering days when past and present, fate and destiny converge is the stuff of our worst nightmares, and a testament by which to live: sanely if not safely, with courage, humor, and a full heart that even in the darkness must persevere.
A few of my most trusted bookish friends marked this as a favorite, but they also really like horror and I hate horror. I hate being scared. So this will be a ditch for me.
Article 5 – Kristen Simmons
In Kristen Simmons's Article 5, New York, Los Angeles, and Washington, D.C., have been abandoned.
The Bill of Rights has been revoked and replaced with the Moral Statutes.
There are no more police-instead, there are soldiers. There are no more fines for bad behavior-instead, there are arrests, trials, and maybe worse. People who get arrested usually don't come back.
Seventeen-year-old Ember Miller is old enough to remember that things weren't always this way. Living with her rebellious single mother, it's hard for her to forget that people weren't always arrested for reading the wrong books or staying out after dark. That life in the United States used to be different.
Ember has perfected the art of keeping a low profile. She knows how to get the things she needs, like food stamps and hand-me-down clothes, and how to pass the random home inspections by the military. Her life is as close to peaceful as circumstances allow.
That is, until her mother is arrested for noncompliance with Article 5 of the Moral Statutes. And one of the arresting officers is none other than Chase Jennings…the only boy Ember has ever loved.
While this sounds absolutely cheesy as heck, it's also dystopian. And I usually really enjoy dystopian especially when they discuss things like censorship. So I'm going to give this one a try, and say keep
Thunderbolts #105
CIVIL WAR Tie-in! 
The T-Bolts have taken down a slew of supervillains in order to amass a supervillain army — but will they use this force to help the U.S. Government capture the RENEGADE HEROES… or to overthrow the U.S, Government? It all leads up to a nasty battle between CAPTAIN AMERICA and ZEMO…but the outcome will shock you! 
One of these days I'll actually complete my Civil War read, but I really really hate the Thunderbolts so I'm going to ditch.
In summary:
I kept 60% of the books presented in this round:
"The Crimson Petal and the White" by Michel Faber
"Evicted" by Matthew Desmond
"Bohemian Gospel" by Dana Chamblee Carpenter
"Arcadia" by Lauren Groff
"The Story (Teen Edition)" ed. by Randy Frazee & Max Lucado
"Article 5" by Kristen Simmons
I ditched 40% of the books presented in this round:
"Very Wicked Things" by Ilsa Madden Mills
"Nicola and the Viscount" by Meg Cabot
"Odd Thomas" by Dean Koontz
"Thunderbolts #105"
(this post does contain affiliate links that help me keep the site going. please consider purchasing using these links if you're interested in this book! thanks so much xo r)
Follow Rachel Reading: GoodReads | Instagram | Facebook | BlogLovin