Guess who's back, back again? I missed last weeks post because real life ate me alive, but I'm back!
So I got this idea from my friend Sarah's blog, who tries to do this once a week. I have over 2,000 books on my TBR, so I think parsing this down every so often would be really great. I'm going to attempt to do this at least once a week, however, instead of doing the last 10 books added, I'm going to randomly select 10 books.
Here are the rules:
Go to your goodreads to-read shelf.
Order on ascending date added.
Take the first 5 (or 10 if you're feeling adventurous) books
Read the synopses of the books
Decide: keep it or should it go?
The only thing I do differently is I randomly select a page number, and a book number, and decide if those should be kept or if they should go. Here we go!
The Devouring – Simon Holt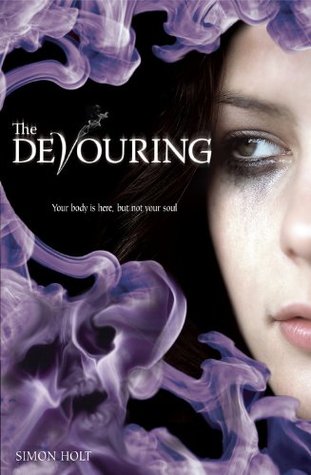 The Vours: Evil, demonic beings that inhabit human bodies on Sorry Night, the darkest hours of the winter solstice.
When Reggie reads about the Vours in a mysterious old journal, she assumes they are just the musings of an anonymous lunatic. But when her little brother, Henry, begins to act strangely, it's clear that these creatures exist beyond a madwoman's imagination, and Reggie finds out what happens when fears come to life.
To save the people she loves, Reggie must learn to survive in a world of nightmares. Can she devour her own fears before they devour her?
The Devouring is an engrossing tale of terror that will have you wondering: what if your worst fears became your living nightmare?
Demons = hard no. I'm going to pass.
Blood and Salt – Kim Liggett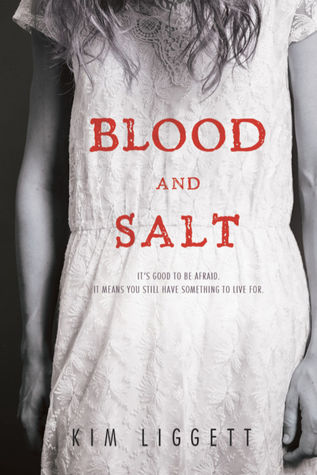 From Harvard sociologist and MacArthur "Genius" Matthew Desmond, a landmark work of scholarship and reportage that will forever change the way we look at poverty in America
 
In this brilliant, heartbreaking book, Matthew Desmond takes us into the poorest neighborhoods of Milwaukee to tell the story of eight families on the edge. Arleen is a single mother trying to raise her two sons on the $20 a month she has left after paying for their rundown apartment. Scott is a gentle nurse consumed by a heroin addiction. Lamar, a man with no legs and a neighborhood full of boys to look after, tries to work his way out of debt. Vanetta participates in a botched stickup after her hours are cut. All are spending almost everything they have on rent, and all have fallen behind.
The fates of these families are in the hands of two landlords: Sherrena Tarver, a former schoolteacher turned inner-city entrepreneur, and Tobin Charney, who runs one of the worst trailer parks in Milwaukee. They loathe some of their tenants and are fond of others, but as Sherrena puts it, "Love don't pay the bills." She moves to evict Arleen and her boys a few days before Christmas.
Even in the most desolate areas of American cities, evictions used to be rare. But today, most poor renting families are spending more than half of their income on housing, and eviction has become ordinary, especially for single mothers. In vivid, intimate prose, Desmond provides a ground-level view of one of the most urgent issues facing America today. As we see families forced  into shelters, squalid apartments, or more dangerous neighborhoods, we bear witness to the human cost of America's vast inequality—and to people's determination and intelligence in the face of hardship.
Based on years of embedded fieldwork and painstakingly gathered data, this masterful book transforms our understanding of extreme poverty and economic exploitation while providing fresh ideas for solving a devastating, uniquely American problem. Its unforgettable scenes of hope and loss remind us of the centrality of home, without which nothing else is possible.
I'm really not sure about this one, but a few friends of mine reviewed it extremely highly so I'll keep.
Don't Breathe a Word – Jennifer McMahon
On a soft summer night in Vermont, 12-year-old Lisa went into the woods behind her house and never came out again. Before she disappeared, she told her little brother, Sam, about a door that led to a magical place where she would meet the King of the Fairies and become his queen.
Fifteen years later, Phoebe is in love with Sam, a practical, sensible man who doesn't fear the dark and doesn't have bad dreams – who, in fact, helps Phoebe ignore her own. But suddenly the couple is faced with a series of eerie, unexplained occurrences that challenge Sam's hardheaded, realistic view of the world. As they question their reality, a terrible promise Sam made years ago is revealed – a promise that could destroy them all.
What is up with the spooky books this time around! Based off of the reviews on this, I'm going to ditch.
Leading on Empty: Refilling Your Tank and Renewing Your Passion
Gives leaders the tools to recognize and overcome burnout. This book provides them a vision to greater levels of both rest and productivity.
I think I very much need this book, so keep.
The Wig in the Window – Kristen Kittscher
Best friends and seventh graders Sophie Young and Grace Yang have made a game out of spying on their neighbors. On one of their midnight stakeouts, they witness a terrifying, bloody scene at the home of their bizarre middle-school counselor, Dr. Charlotte Agford (aka Dr. Awkward).
At least, they think they do. The truth is that Dr. Agford was only making her famous pickled beets! But when Dr. Agford begins acting even weirder than usual, Sophie and Grace become convinced that she's hiding something—and they're determined to find out what it is.
Soon the girls are breaking secret codes, being followed by a strange blue car, and tailing strangers with unibrows and Texas accents. But as their investigation heats up, Sophie and Grace start to crack under the pressure. They might solve their case, but will their friendship survive?
Perfect for fans of The Mysterious Benedict Society, The Wig in the Window is a smart, funny middle-grade mystery with a REAR WINDOW twist.
This book seems SO CUTE. I must read it! It's a keep.
The Fortress of Solitude – Jonathan Lethem
From the prize-winning author of Motherless Brooklyn, a daring, riotous, sweeping novel that spins the tale of two friends and their adventures in late 20th-century America.
This is the story of two boys, Dylan Ebdus and Mingus Rude. They live in Brooklyn and are friends and neighbours; but since Dylan is white and Mingus is black, their friendship is not simple.
This is the story of 1970s America, a time when the simplest decisions – what music you listen to, whether to speak to the kid in the seat next to you, whether to give up your lunch money – are laden with potential political, social and racial disaster. This is also the story of 1990s America, when nobody cared anymore.
This is the story of what would happen if two teenaged boys obsessed with comic book heroes actually had superpowers: they would screw up their lives.
This ended up on my TBR since it's part of the Rory Gilmore challenge. It sounds amazing, so keep.
Flashpoint – Geoff Johns
Not a dream, not an imaginary story, not an elseworld. This is Flash Fact: When Barry Allen wakes at his desk, he discovers the world has changed. Family is alive, loved ones are strangers, and close friends are different, gone or worse. It's a world on the brink of a cataclysmic war – but where are Earth's Greatest Heroes to stop it? It's a place where America's last hope is Cyborg, who hopes to gather the forces of The Outsider, The Secret 7, SHAZAM!, Citizen Cold and other new and familiar, yet altered, faces! It's a world that could be running out of time, if The Flash can't find the villain who altered the time line!
DC comics and I have had a really rough go of it, so I'm going to ditch and stick to the tv show.
Dead is the New Black – Marlene Perez
Welcome to Nightshade, California—a small town full of secrets. It's home to the pyschic Giordano sisters, who have a way of getting mixed up in mysteries. During their investigations, they run across everything from pom-pom-shaking vampires to shape-shifting boyfriends to a clue-spewing jukebox. With their psychic powers and some sisterly support, they can crack any case!
Teenage girls are being mysteriously attacked all over town, including at Nightshade High School, where Daisy Giordano is a junior. When Daisy discovers that a vampire may be the culprit, she can't help but suspect head cheerleader Samantha Devereaux, who returned from summer break with a new "look." Samantha appears a little . . . well, dead, and all the most popular kids at school are copying her style. 
Is looking dead just another fashion trend for Samantha, or is there something more sinister going on? To find out, Daisy joins the cheerleading squad.
Not a huge fan of vampire books, and the reviews seem to be pretty middle of the road. I'm going to ditch this one.
Everything, Everything – Nicola Yoon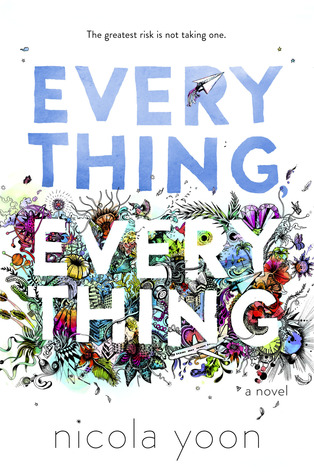 My disease is as rare as it is famous. Basically, I'm allergic to the world. I don't leave my house, have not left my house in seventeen years. The only people I ever see are my mom and my nurse, Carla.
But then one day, a moving truck arrives next door. I look out my window, and I see him. He's tall, lean and wearing all black—black T-shirt, black jeans, black sneakers, and a black knit cap that covers his hair completely. He catches me looking and stares at me. I stare right back. His name is Olly.
Maybe we can't predict the future, but we can predict some things. For example, I am certainly going to fall in love with Olly. It's almost certainly going to be a disaster.
I have heard phenomenal things about this book. It's a keep for sure.
Unless – Carol Shields
Reta Winters, 44-year-old successful author of light summertime fiction, has always considered herself happy, even blessed. That is, until her oldest daughter Norah mysteriously drops out of college to become a panhandler on a Toronto street corner — silent, with a sign around her neck bearing the word "Goodness."
Another Rory Gilmore book, and people either seem to love or hate it. For that, I'll keep. If only because I trust my Gilmores.
In summary:
I kept 60% of the books presented in this round:
"Blood and Salt" by Kim Liggett
"Leading on Empty" by Wayne Cordeiro
"The Wig in the Window" by Kristen Kittscher
"The Fortress of Solitude" by Jonathan Lethem
"Everything, Everything" by Nicola Yoon
"Unless" by Carol Shields
I ditched 40% of the books presented in this round:
"The Devouring" by Simon Holt
"Don't Breathe a Word" by Jennifer McMahon
"Flashpoint" by Geoff Johns
"Dead is the New Black" by Marlene Perez
(this post does contain affiliate links that help me keep the site going. please consider purchasing using these links if you're interested in this book! thanks so much xo r)
Follow Rachel Reading: GoodReads | Instagram | Facebook | BlogLovin