So I got this idea from my friend Sarah's blog, who tries to do this once a week. I have over 2,000 books on my TBR, so I think parsing this down every so often would be really great. I'm going to attempt to do this at least once a week, however, instead of doing the last 10 books added, I'm going to randomly select 10 books.
Here are the rules:
Go to your goodreads to-read shelf.
Order on ascending date added.
Take the first 5 (or 10 if you're feeling adventurous) books
Read the synopses of the books
Decide: keep it or should it go?
The only thing I do differently is I randomly select a page number, and a book number, and decide if those should be kept or if they should go. Here we go!
This Child's Gonna Live – Sarah E. Wright
Originally published in 1969 to broad critical acclaim, This Child's Gonna Live is an unsurpassed testament to human endurance in the face of poverty, racism, and despair. Set in a fishing village on Maryland's Eastern Shore in the 1930s, this story has as its main character the unforgettable Mariah Upshur, a hard-working, sensual, resilient woman, full of hope, and determination despite living in a society that conspires to keep her down. In her mind, she carries on a conversation with Jesus, who, like Mariah herself, is passionate and compassionate, at times funny and resolutely resilient to fatalism. Often compared to Zora Neale Hurston for her lyrical and sure-handed use of local dialect, Wright, like Hurston, powerfully depicts the predicament of poor African American women, who confront the multiple oppressions of class, race, and gender.
The reviews of this look phenomenal so keep.
Empire Falls – Richard Russo
Dexter County, Maine, and specifically the town of Empire Falls, has seen better days, and for decades, in fact, only a succession from bad to worse. One by one, its logging and textile enterprises have gone belly-up, and the once vast holdings of the Whiting clan (presided over by the last scion's widow) now mostly amount to decrepit real estate. The working classes, meanwhile, continue to eke out whatever meager promise isn't already boarded up.
Miles Roby gazes over this ruined kingdom from the Empire Grill, an opportunity of his youth that has become the albatross of his daily and future life. Called back from college and set to work by family obligations—his mother ailing, his father a loose cannon—Miles never left home again. Even so, his own obligations are manifold: a pending divorce; a troubled younger brother; and, not least, a peculiar partnership in the failing grill with none other than Mrs. Whiting. All of these, though, are offset by his daughter, Tick, whom he guides gently and proudly through the tribulations of adolescence.
A decent man encircled by history and dreams, by echoing churches and abandoned mills, by the comforts and feuds provided by lifelong friends and neighbors, Miles is also a patient, knowing guide to the rich, hardscrabble nature of Empire Falls: fathers and sons and daughters, living and dead, rich and poor alike. Shot through with the mysteries of generations and the shattering visitations of the nation at large, it is a social novel of panoramic ambition, yet at the same time achingly personal. In the end, Empire Falls reveals our worst and best instincts, both our most appalling nightmares and our simplest hopes, with all the vision, grace and humanity of truly epic storytelling.
This is another that was on the Rory Gilmore list that I actually find super interesteing. Keep.
Kia and Gio – Jose Daniel Older
Kia's a week shy of her seventeenth birthday, which is about how old her cousin Gio was six years ago when he just up and went away. Kia's a little bit in love with Giovanni (and who wasn't, really?) but she hasn't thought about him this much since the day he disappeared. It's not until a run-of-the-mill work shift at Baba Eddie's botánica goes awry that she begins to understand why he's on her mind…
Apparently this is a short story based in another world, but this author came highly recommended for me. I think, for now, I'm going to actually ditch this, with the caveat that maybe when I read the original story I'll readd it.
The Young Elites – Marie Lu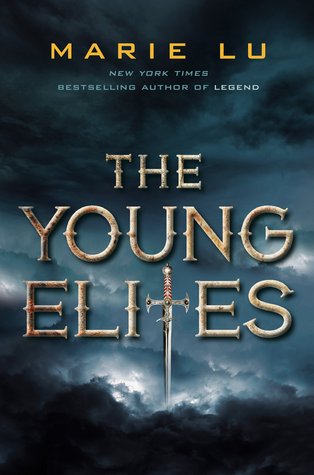 I am tired of being used, hurt, and cast aside.
Adelina Amouteru is a survivor of the blood fever. A decade ago, the deadly illness swept through her nation. Most of the infected perished, while many of the children who survived were left with strange markings. Adelina's black hair turned silver, her lashes went pale, and now she has only a jagged scar where her left eye once was. Her cruel father believes she is a malfetto, an abomination, ruining their family's good name and standing in the way of their fortune. But some of the fever's survivors are rumored to possess more than just scars—they are believed to have mysterious and powerful gifts, and though their identities remain secret, they have come to be called the Young Elites.
Teren Santoro works for the king. As Leader of the Inquisition Axis, it is his job to seek out the Young Elites, to destroy them before they destroy the nation. He believes the Young Elites to be dangerous and vengeful, but it's Teren who may possess the darkest secret of all. 
Enzo Valenciano is a member of the Dagger Society. This secret sect of Young Elites seeks out others like them before the Inquisition Axis can. But when the Daggers find Adelina, they discover someone with powers like they've never seen. 
Adelina wants to believe Enzo is on her side, and that Teren is the true enemy. But the lives of these three will collide in unexpected ways, as each fights a very different and personal battle. But of one thing they are all certain: Adelina has abilities that shouldn't belong in this world. A vengeful blackness in her heart. And a desire to destroy all who dare to cross her.
It is my turn to use. My turn to hurt.
So I DNFed "Legend" which people really loved. However, I'm willing to give her another chance, so I'll keep this.
Marvel Comics: The Untold Story – Sean Howe
An unvarnished, unauthorized, behind-the-scenes account of one of the most dominant pop cultural forces in contemporary America
Operating out of a tiny office on Madison Avenue in the early 1960s, a struggling company called Marvel Comics presented a cast of brightly costumed characters distinguished by smart banter and compellingly human flaws. Spider-Man, the Fantastic Four, Captain America, the Incredible Hulk, the Avengers, Iron Man, Thor, the X-Men, Daredevil—these superheroes quickly won children's hearts and sparked the imaginations of pop artists, public intellectuals, and campus radicals. Over the course of a half century, Marvel's epic universe would become the most elaborate fictional narrative in history and serve as a modern American mythology for millions of readers.
Throughout this decades-long journey to becoming a multibillion-dollar enterprise, Marvel's identity has continually shifted, careening between scrappy underdog and corporate behemoth. As the company has weathered Wall Street machinations, Hollywood failures, and the collapse of the comic book market, its characters have been passed along among generations of editors, artists, and writers—also known as the celebrated Marvel "Bullpen." Entrusted to carry on tradition, Marvel's contributors—impoverished child prodigies, hallucinating peaceniks, and mercenary careerists among them—struggled with commercial mandates, a fickle audience, and, over matters of credit and control, one another.
For the first time, Marvel Comics reveals the outsized personalities behind the scenes, including Martin Goodman, the self-made publisher who forayed into comics after a get-rich-quick tip in 1939; Stan Lee, the energetic editor who would shepherd the company through thick and thin for decades; and Jack Kirby, the World War II veteran who'd co-created Captain America in 1940 and, twenty years later, developed with Lee the bulk of the company's marquee characters in a three-year frenzy of creativity that would be the grounds for future legal battles and endless debates.
Drawing on more than one hundred original interviews with Marvel insiders then and now, Marvel Comics is a story of fertile imaginations, lifelong friendships, action-packed fistfights, reformed criminals, unlikely alliances, and third-act betrayals— a narrative of one of the most extraordinary, beloved, and beleaguered pop cultural entities in America's history.
I cannot wait to read this book, so keep.
Bright Young Things – Anna Godbersen
The year is 1929. New York is ruled by the Bright Young Things: Flappers and socialites seeking thrills and chasing dreams in the anything-goes era of the Roaring Twenties.
Letty Larkspur and Cordelia Grey escaped their small Midwestern town for New York's glittering metropolis. All Letty wants is to see her name in lights, but she quickly discovers Manhattan is filled with pretty girls who will do anything to be a star….
Cordelia is searching for the father she's never known, a man as infamous for his wild parties as he is for his shadowy schemes. Overnight, she enters a world more thrilling and glamorous than she ever could have imagined — and more dangerous. It's a life anyone would kill for…and someone will.
The only person Cordelia can trust is ­Astrid Donal, a flapper who seems to have it all: money, looks, and the love of Cordelia's brother, Charlie. But Astrid's perfect veneer hides a score of family secrets.
Across the vast lawns of Long Island, in the ­illicit speakeasies of Manhattan, and on the blindingly lit stages of Broadway, the three girls' fortunes will rise and fall — together and apart. From the New York Times bestselling author of THE LUXE comes an epic new series set in the dizzying last summer of the Jazz Age.
It took me ages to actually get INTO "The Luxe" and the reviews aren't too good on this one, so as much as it pains me, I'm going to ditch this one.
Backlash: The Undeclared War Against American Women
Skillfully Probing the Attack on Women's Rights
"Opting-out," "security moms," "desperate housewives," "the new baby fever"—the trend stories of 2006 leave no doubt that American women are still being barraged by the same backlash messages that Susan Faludi brilliantly exposed in her 1991 bestselling book of revelations. Now, the book that reignited the feminist movement is back in a fifteenth anniversary edition, with a new preface by the author that brings backlash consciousness up to date.
When it was first published, Backlash made headlines for puncturing such favorite media myths as the "infertility epidemic" and the "man shortage," myths that defied statistical realities. These willfully fictitious media campaigns added up to an antifeminist backlash. Whatever progress feminism has recently made, Faludi's words today seem prophetic. The media still love stories about stay-at-home moms and the "dangers" of women's career ambitions; the glass ceiling is still low; women are still punished for wanting to succeed; basic reproductive rights are still hanging by a thread. The backlash clearly exists.
With passion and precision, Faludi shows in her new preface how the creators of commercial culture distort feminist concepts to sell products while selling women downstream, how the feminist ethic of economic independence is twisted into the consumer ethic of buying power, and how the feminist quest for self-determination is warped into a self-centered quest for self-improvement. Backlash is a classic of feminism, an alarm bell for women of every generation, reminding us of the dangers that we still face.
I'm cautiously optimistic about this one, I've been burned by feminist books like this before, but for now I'll keep.
My Life in France – Julia Child
Although she would later singlehandedly create a new approach to American cuisine with her cookbook Mastering the Art of French Cooking and her television show The French Chef, Julia Child was not always a master chef. Indeed, when she first arrived in France in 1948 with her husband, Paul, who was to work for the USIS, she spoke no French and knew nothing about the country itself. But as she dove into French culture, buying food at local markets and taking classes at the Cordon Bleu, her life changed forever with her newfound passion for cooking and teaching. Julia's unforgettable story–struggles with the head of the Cordon Bleu, rejections from publishers to whom she sent her now-famous cookbook, a wonderful, nearly fifty-year long marriage that took the Childs across the globe–unfolds with the spirit so key to Julia's success as a chef and a writer, brilliantly capturing one of America's most endearing personalities.
I've heard nothing but phenomenal things about this book, so keep.
Longbourn – Jo Baker
If Elizabeth Bennet had the washing of her own petticoats, Sarah often thought, she'd most likely be a sight more careful with them.
 
In this irresistibly imagined belowstairs answer to Pride and Prejudice, the servants take center stage. Sarah, the orphaned housemaid, spends her days scrubbing the laundry, polishing the floors, and emptying the chamber pots for the Bennet household. But there is just as much romance, heartbreak, and intrigue downstairs at Longbourn as there is upstairs. When a mysterious new footman arrives, the orderly realm of the servants' hall threatens to be completely, perhaps irrevocably, upended. 
Jo Baker dares to take us beyond the drawing rooms of Jane Austen's classic—into the often overlooked domain of the stern housekeeper and the starry-eyed kitchen maid, into the gritty daily particulars faced by the lower classes in Regency England during the Napoleonic Wars—and, in doing so, creates a vivid, fascinating, fully realized world that is wholly her own. 
I have had this on my TBR Short List for ages (shows how short it actually is). I'll keep.
Modern Romance – Aziz Ansari
A hilarious, thoughtful, and in-depth exploration of the pleasures and perils of modern romance from one of this generation's sharpest comedic voices
At some point, every one of us embarks on a journey to find love. We meet people, date, get into and out of relationships, all with the hope of finding someone with whom we share a deep connection. This seems standard now, but it's wildly different from what people did even just decades ago. Single people today have more romantic options than at any point in human history. With technology, our abilities to connect with and sort through these options are staggering. So why are so many people frustrated?
Some of our problems are unique to our time. "Why did this guy just text me an emoji of a pizza?" "Should I go out with this girl even though she listed Combos as one of her favorite snack foods? Combos?!" "My girlfriend just got a message from some dude named Nathan. Who's Nathan? Did he just send her a photo of his penis? Should I check just to be sure?" 
But the transformation of our romantic lives can't be explained by technology alone. In a short period of time, the whole culture of finding love has changed dramatically. A few decades ago, people would find a decent person who lived in their neighborhood. Their families would meet and, after deciding neither party seemed like a murderer, they would get married and soon have a kid, all by the time they were twenty-four. Today, people marry later than ever and spend years of their lives on a quest to find the perfect person, a soul mate.
For years, Aziz Ansari has been aiming his comic insight at modern romance, but for Modern Romance, the book, he decided he needed to take things to another level. He teamed up with NYU sociologist Eric Klinenberg and designed a massive research project, including hundreds of interviews and focus groups conducted everywhere from Tokyo to Buenos Aires to Wichita. They analyzed behavioral data and surveys and created their own online research forum on Reddit, which drew thousands of messages. They enlisted the world's leading social scientists, including Andrew Cherlin, Eli Finkel, Helen Fisher, Sheena Iyengar, Barry Schwartz, Sherry Turkle, and Robb Willer. The result is unlike any social science or humor book we've seen before.
In Modern Romance, Ansari combines his irreverent humor with cutting-edge social science to give us an unforgettable tour of our new romantic world.
After the article that came out in Babe, I'm not planning on supporting Ansari anymore, so this is an easy ditch.
In summary:
I kept 70% of the books presented in this round:
"This Child's Gonna Live" – Sarah E. Wright
"Empire Falls" – Richard Russo
"The Young Elites" – Marie Lu
"Marvel Comics: The Untold Story" – Sean Howe
"Backlash" – Susan Faludi
"My Life in France" – Julia Child
"Longbourn" – Jo Baker
I ditched 30% of the books presented in this round:
"Kia and Gio" – Jose Daniel Older
"Bright Young Things" – Anna Godbersen
"Modern Romance" – Aziz Ansari
(this post does contain affiliate links that help me keep the site going. please consider purchasing using these links if you're interested in this book! thanks so much xo r)
Follow Rachel Reading: GoodReads | Instagram | Facebook | BlogLovin