So I got this idea from my friend Sarah's blog, who tries to do this once a week. I have over 2,000 books on my TBR, so I think parsing this down every so often would be really great. I'm going to attempt to do this at least once a week, however, instead of doing the last 10 books added, I'm going to randomly select 10 books.
Here are the rules:
Go to your goodreads to-read shelf.
Order on ascending date added.
Take the first 5 (or 10 if you're feeling adventurous) books
Read the synopses of the books
Decide: keep it or should it go?
The only thing I do differently is I randomly select a page number, and a book number, and decide if those should be kept or if they should go. Here we go!
The Swan Book – Alexis Wright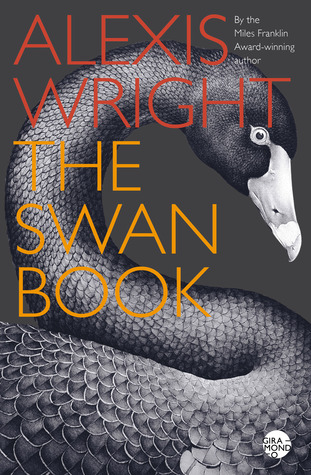 The Swan Book is set in the future, with Aboriginals still living under the Intervention in the north, in an environment fundamentally altered by climate change. It follows the life of a mute young woman called Oblivia, the victim of gang-rape by petrol-sniffing youths, from the displaced community where she lives in a hulk, in a swamp filled with rusting boats, and thousands of black swans, to her marriage to Warren Finch, the first Aboriginal president of Australia, and her elevation to the position of First Lady, confined to a tower in a flooded and lawless southern city. The Swan Book has all the qualities which made Wright's previous novel, Carpentaria, a prize-winning best-seller. It offers an intimate awareness of the realities facing Aboriginal people; the energy and humour in her writing finds hope in the bleakest situations; and the remarkable combination of storytelling elements, drawn from myth and legend and fairy tale, has Oblivia Ethylene in the company of amazing characters like Aunty Bella Donna of the Champions, the Harbour Master, Big Red and the Mechanic, a talking monkey called Rigoletto, three genies with doctorates, and throughout, the guiding presence of swans.
I am 100% here for Aboriginal dystopian books so keep for sure!
Fathomless – Anne M. Pillsworth
Sean Wyndham has tried to stay away from the lure of magic—the last time he tried to dabble in the dark studies, he inadvertently summoned a blood familiar, wreaking havoc on his town and calling the attention of the Elder Gods.
Still, Sean has been offered the chance to study the occult with a proper teacher and maybe gain a handle on his tempestuous callings. And it seems like a safe choice—overseen by Helen Arkwright, a friend of Sean's father and heir to an ancient order of much power, founded to protect New England from that which lurks in the coastline's unseen depths. But will learning theory be enough, when there is a much greater magical secret hidden in Helen's vaulted library?
Accompanied by his best friend, Eddy, and their enigmatic new friend, Daniel, Sean wades out deeper into mystical legend and shadow. With hints and secrets buried long in family lore, they turn to the suspicious Reverend Orne once more for assistance. But as Sean deepens his understanding of his power, the darkness is waking.
This is apparently second in a series, but you don't have to read them in order. I've never read anything Lovecraft inspired, but I think this could be a cool place to start. Keep.
Speak, Memory – Vladimir Nabokov
'Speak, memory' said Vladimir Nabokov. And immediately there came flooding back to him a host of enchanting recollections – of his comfortable childhood and adolescence, of his rich, liberal-minded father, his beautiful mother, an army of relations and family hangers-on and of grand old houses in St Petersburg and the surrounding countryside in pre-revolutionary Russia. Young love, butterflies, tutors and a multitude of other themes thread together to weave an autobiography which is itself a work of art. 
I've never read anything by Nabokov, but people are calling it the best memoir they've ever read. Since I've  been into memoirs lately, I'm going to keep.
The Three-Body Problem – Liu Cixin
The Three-Body Problem is the first chance for English-speaking readers to experience this multiple award winning phenomenon from China's most beloved science fiction author, Liu Cixin.
Set against the backdrop of China's Cultural Revolution, a secret military project sends signals into space to establish contact with aliens. An alien civilization on the brink of destruction captures the signal and plans to invade Earth. Meanwhile, on Earth, different camps start forming, planning to either welcome the superior beings and help them take over a world seen as corrupt, or to fight against the invasion. The result is a science fiction masterpiece of enormous scope and vision.
People really love this book. Although it's not normally my cup of tea, I think I'll keep it, also because it's a work in translation and I really love those.
Talking Back: Thinking Feminist, Thinking Black – bell hooks
bell hooks writes about the meaning of feminist consciousness in daily life and about self-recovery, about overcoming white and male supremacy, and about intimate relationships, exploring the point where the public and private meet.
I'm always trying to read feminist and intersectionally. This is both. Keep.
A Passage to India – E.M. Forster
When Adela Quested and her elderly companion Mrs Moore arrive in the Indian town of Chandrapore, they quickly feel trapped by its insular and prejudiced 'Anglo-Indian' community. Determined to escape the parochial English enclave and explore the 'real India', they seek the guidance of the charming and mercurial Dr Aziz, a cultivated Indian Muslim. But a mysterious incident occurs while they are exploring the Marabar caves with Aziz, and the well-respected doctor soon finds himself at the centre of a scandal that rouses violent passions among both the British and their Indian subjects. A masterly portrait of a society in the grip of imperialism, A Passage to India compellingly depicts the fate of individuals caught between the great political and cultural conflicts of the modern world. 
People seem to really love this book, but if I'm going to be honest, I probably won't ever pick this one up. So for now, ditch.
The Firefly Letters – Margarita Engle
The freedom to roam is something that women and girls in Cuba do not have. Yet when Fredrika Bremer visits from Sweden in 1851 to learn about the people of this magical island, she is accompanied by Cecilia, a young slave who longs for her lost home in Africa. Soon Elena, the wealthy daughter of the house, sneaks out to join them. As the three women explore the lush countryside, they form a bond that breaks the barriers of language and culture.
In this quietly powerful new book, award-winning poet Margarita Engle paints a portrait of early women's rights pioneer Fredrika Bremer and the journey to Cuba that transformed her life.
I am very here for middle grade books about women's rights pioneers. Keep.
The Feminist Utopia Project – ed. Alexandra Brodsky
What do we want?
In this groundbreaking collection, more than fifty cutting-edge voices, including Melissa Harris-Perry, Janet Mock, Sheila Heti, and Mia McKenzie, invite us to imagine a truly feminist world. An abortion provider reinvents birth control, Sheila Bapat envisions an economy that values domestic work, a teenage rock band dreams up a new way to make music, Katherine Cross rewrites the Constitution, and Maya Dusenbery resets the standard for good sex. Combining essays, interviews, poetry, illustrations, and short stories, The Feminist Utopia Projectchallenges the status quo that accepts inequality and violence as a given—and inspires us to demand a radically better future.
I am so here for various ideas of a feminist utopia. I can't keep this book fast enough.
The Haunted Mansion – Joshua Williamson
Welcome, foolish mortals, to the Haunted Mansion – enter if you dare! You might think that no one lives in this elegant house on the hill…but then where's that creepy organ music coming from? Are its iron gates meant to keep people out…or keep something in? Get ready to meet the 999 spooks of the Haunted Mansion. But be warned, they're looking for the 1000th! Legendary ghouls like Madame Leota, the Hatbox ghost, Constance the Bride and the Hitchhiking Ghosts lie in wait and could appear at any moment. But poor Danny is trapped inside and just wants to escape the foreboding abode – is there anyone he can trust to help him? Marvel brings the chilling fan-favorite Haunted Mansion attraction to (after) life in the latest spine-tingling Disney Kingdoms adventure! COLLECTING: Haunted Mansion 1-5
I read the first two issues of this and really loved it, I'm going to keep because I would love to read them all.
Openly Straight – Bill Koningsberg
Rafe is a normal teenager from Boulder, Colorado. He plays soccer. He's won skiing prizes. He likes to write.
And, oh yeah, he's gay. He's been out since 8th grade, and he isn't teased, and he goes to other high schools and talks about tolerance and stuff. And while that's important, all Rafe really wants is to just be a regular guy. Not that GAY guy. To have it be a part of who he is, but not the headline, every single time.
So when he transfers to an all-boys' boarding school in New England, he decides to keep his sexuality a secret — not so much going back in the closet as starting over with a clean slate. But then he sees a classmate break down. He meets a teacher who challenges him to write his story. And most of all, he falls in love with Ben . . . who doesn't even know that love is possible.
This witty, smart, coming-out-again story will appeal to gay and straight kids alike as they watch Rafe navigate feeling different, fitting in, and what it means to be himself.
My high school English teacher has read it twice and gave it a pretty good review. I'll keep.
In summary:
I kept 90% of the books presented in this round:
"The Swan Book" – Alexis Wright
"Fathomless" – Anne M. Pillsworth
"Speak, Memory" – Vladimir Nabokov
"The Three-Body Problem" – Liu Cixin
"The Firefly Letters" – Margarita Engle
"The Feminist Utopia Project" – ed. Alexandra Brodsky
"The Haunted Mansion" – Joshua Williamson
"Openly Straight" – Bill Koningsberg
I ditched 10% of the books presented in this round:
"A Passage to India" – E.M. Forster
(this post does contain affiliate links that help me keep the site going. please consider purchasing using these links if you're interested in this book! thanks so much xo r)
Follow Rachel Reading: GoodReads | Instagram | Facebook | BlogLovin