So I got this idea from my friend Sarah's blog, who tries to do this once a week. I have over 2,000 books on my TBR, so I think parsing this down every so often would be really great. I'm going to attempt to do this at least once a week, however, instead of doing the last 10 books added, I'm going to randomly select 10 books.
Here are the rules:
Go to your goodreads to-read shelf.
Order on ascending date added.
Take the first 5 (or 10 if you're feeling adventurous) books
Read the synopses of the books
Decide: keep it or should it go?
The only thing I do differently is I randomly select a page number, and a book number, and decide if those should be kept or if they should go. Here we go!
Let's All Be Brave: Living Life with Everything You Have – Annie F. Downs
Annie F. Downs admits she's not exactly the bravest girl in the world. She still cries sometimes when she leaves her parents' home in Georgia, she's never jumped out of a plane, and she only rides roller coasters to impress boys. But Annie knows that courage resides inside each and every one of us, and she's on a mission to triumph over her own fears while encouraging the reader to do the same. As a single young woman, writer, speaker, and blogger, Annie Downs shares her journey toward bravery with honesty and humor. Using wonderful stories from her own life, contemporary real-life examples, and fascinating historical and biblical references, Annie encourages readers to grab hold of the brave life that they desperately desire. How often does fear hold us back from the very things we most want to taste, touch, and experience? The call to be brave isn't just for one person—it's for everyone. Let's All Be Brave is more than a book, it's a battle cry. Annie challenges us to live boldly, she calls us to step into those places that require courage, and she gives us the help to take the next step forward—even when it's scary. This non-fiction, essay-driven book opens the door to many different views of courage—nudging, encouraging, and inspiring readers to be brave whenever given the chance.
One of my really good friends picked up the devotional based on this, and really likes it. I've heard good things about the author too, so I'm going to keep.
Rush – Eve Silver
So what's the game now? This, or the life I used to know?
Miki Jones's carefully controlled life spins into chaos after she's run down in the street, left broken and bloody. She wakes up fully healed in a place called the lobby – pulled from her life, through time and space into some kind of game in which she and a team of other teens are sent on missions to eliminate the Drau, terrifying and beautiful alien creatures.
There are no practice runs, no training, and no way out. Every moment of the game is kill or be killed, and Miki has only the questionable guidance of Jackson Tate, the team's alluring and secretive leader. He evades her questions, holds himself aloof from the others, and claims it's every player for himself. But when he puts himself at risk to watch Miki's back, he leaves her both frustrated and fascinated. Jackson says the game isn't really a game, that what Miki and her new teammates do now determines their survival. And the survival of every other person on the planet. She laughs. He doesn't. And then the game takes a deadly and terrifying turn.
The reviews on this seem meh, and the synopsis doesn't seem like something I really feel pulled to. I'm going to ditch.
The Fame Game – Lauren Conrad
In Hollywood, fame can be found on every corner and behind any door. You just have to know where to look for it. Nineteen-year-old Madison Parker made a name for herself as best frenemy of nice-girl-next-door Jane Roberts on the hot reality show L.A. Candy. Now Madison's ready for her turn in the spotlight and she'll stop at nothing to get it. Sure, she's the star of a new show, but with backstabbing friends and suspicious family members trying to bring her down, Madison has her work cut out for her. Plus, there's a new nice girl in "reality" town—aspiring actress Carmen Price, the daughter of Hollywood royalty—and she's a lot more experienced at playing the fame game… When the camera's start rolling, whose star will shine brighter?
Filled with characters both familiar and new, Lauren Conrad's series about the highs and lows of being famous delivers Hollywood gossip and drama at every turn.
I looooved the LA Candy series years ago, so I think I'm going to keep this and go reread LA Candy too.
Unspoken – Sarah Rees Brennan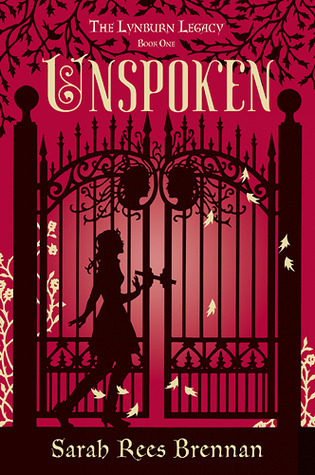 Kami Glass loves someone she's never met… a boy she's talked to in her head ever since she was born. She wasn't silent about her imaginary friend during her childhood, and is thus a bit of an outsider in her sleepy English town of Sorry-in-the-Vale. Still, Kami hasn't suffered too much from not fitting in. She has a best friend, runs the school newspaper, and is only occasionally caught talking to herself. Her life is in order, just the way she likes it, despite the voice in her head.
But all that changes when the Lynburns return.
The Lynburn family has owned the spectacular and sinister manor that overlooks Sorry-in-the-Vale for centuries. The mysterious twin sisters who abandoned their ancestral home a generation ago are back, along with their teenage sons, Jared and Ash, one of whom is eerily familiar to Kami. Kami is not one to shy away from the unknown—in fact, she's determined to find answers for all the questions Sorry-in-the-Vale is suddenly posing. Who is responsible for the bloody deeds in the depths of the woods? What is her own mother hiding? And now that her imaginary friend has become a real boy, does she still love him? Does she hate him? Can she trust him?
This is typically a book I would ditch, and I have no idea how it ended up on my tbr. However, when I saw which of my friends read it and rated it highly, I decided to keep.
Demons – Fyodor Dostoyevsky
Inspired by the true story of a political murder that horrified Russians in 1869, Fyodor Dostoevsky conceived of Demons as a "novel-pamphlet" in which he would say everything about the plague of materialist ideology that he saw infecting his native land. What emerged was a prophetic and ferociously funny masterpiece of ideology and murder in pre-revolutionary Russia.
Pre-Revolutionary Russian classic? Keep.
Don't Forget Lara – Katherine Applegate
Don't forget Lara. As if anyone could! She's lied, schemed and manipulated herself into everyone's lives. But now she's turning her own life around, and it feels great. There's only one problem – the terrifying dreams that haunt her sleep.
I tried to do a reread but just couldn't get through it, so ditch.
Fox's Book of Martyrs – John Foxe
Read the accounts of the early Christian martyrs
I am really into stuff like this right now, and it's been highly rated by friends, so keep.
Dreams of Leaving – Rupert Thomson
New Egypt is a village somewhere in the south of England. A village that nobody has ever left. Peach, the sadistic chief of police, makes sure of that. Then, one misty morning, a young couple secretly set their baby son Moses afloat on the river, in a basket made of rushes. Years later, Moses is living above a nightclub, mixing with drug-dealers, thieves and topless waitresses. He knows nothing about his past – but it is catching up with him nevertheless, and it threatens to put his life in danger. Terror, magic and farce all have a part to play as the worlds of Peach and Moses slowly converge. 
Is this a retelling of Moses? NEED. Keep
The Death and Life of Zebulon Finch, Vol 1: At the Edge of Empire – Daniel Kraus
May 7, 1896. Dusk. A swaggering seventeen-year-old gangster named Zebulon Finch is gunned down on the shores of Lake Michigan. But after mere minutes in the void, he is mysteriously resurrected.
His second life will be nothing like his first.
Zebulon's new existence begins as a sideshow attraction in a traveling medicine show. From there, he will be poked and prodded by a scientist obsessed with mastering the secrets of death. He will fight in the trenches of World War I. He will run from his nightmares—and from poverty—in Depression-era New York City. And he will become the companion of the most beautiful woman in Hollywood.
Love, hate, hope, and horror—Zebulon finds them. But will he ever find redemption?
Apparently this book is not for the squeamish, I, am squeamish. So I'm going to ditch.
The World Until Yesterday: What Can We Learn from Traditional Societies? – Jared Diamond
The bestselling author of Collapse and Guns, Germs and Steelsurveys the history of human societies to answer the question: What can we learn from traditional societies that can make the world a better place for all of us?
Most of us take for granted the features of our modern society, from air travel and telecommunications to literacy and obesity. Yet for nearly all of its six million years of existence, human society had none of these things. While the gulf that divides us from our primitive ancestors may seem unbridgeably wide, we can glimpse much of our former lifestyle in those largely traditional societies still or recently in existence. Societies like those of the New Guinea Highlanders remind us that it was only yesterday—in evolutionary time—when everything changed and that we moderns still possess bodies and social practices often better adapted to traditional than to modern conditions.The World Until Yesterday provides a mesmerizing firsthand picture of the human past as it had been for millions of years—a past that has mostly vanished—and considers what the differences between that past and our present mean for our lives today.
This is Jared Diamond's most personal book to date, as he draws extensively from his decades of field work in the Pacific islands, as well as evidence from Inuit, Amazonian Indians, Kalahari San people, and others. Diamond doesn't romanticize traditional societies—after all, we are shocked by some of their practices—but he finds that their solutions to universal human problems such as child rearing, elder care, dispute resolution, risk, and physical fitness have much to teach us. Provocative, enlightening, and entertaining, The World Until Yesterday is an essential and fascinating read.
I've found myself pulled to the more simple life lately, and I think this would be fascinating. Keep.
In summary:
I kept 70% of the books presented in this round:
"Let's All Be Brave" – Annie F. Downs
"The Fame Game" – Lauren Conrad
"Unspoken" – Sarah Rees Brennan
"Demons" – Fyodor Dostoyevsky
"Fox's Book of Martyrs" – John Foxe
"Dreams of Leaving" – Rupert Thomson
"The World Until Yesterday" – Jared Diamond
I ditched 30% of the books presented in this round:
"Rush" – Eve Silver
"Don't Forget Lara" – Katherine Applegate
"The Life and Death of Zebulon Finch" – Daniel Kraus
(this post does contain affiliate links that help me keep the site going. please consider purchasing using these links if you're interested in this book! thanks so much xo r)
Follow Rachel Reading: GoodReads | Instagram | Facebook | BlogLovin