So I got this idea from my friend Sarah's blog, who tries to do this once a week. I have over 2,000 books on my TBR, so I think parsing this down every so often would be really great. I'm going to attempt to do this at least once a week, however, instead of doing the last 10 books added, I'm going to randomly select 10 books.
Here are the rules:
Go to your goodreads to-read shelf.
Order on ascending date added.
Take the first 5 (or 10 if you're feeling adventurous) books
Read the synopses of the books
Decide: keep it or should it go?
The only thing I do differently is I randomly select a page number, and a book number, and decide if those should be kept or if they should go. Here we go!
Rising Strong – Brene Brown
The physics of vulnerability is simple: If we are brave enough often enough, we will fall. The author of Daring Greatly and The Gifts of Imperfection tells us what it takes to get back up, and how owning our stories of disappointment, failure, and heartbreak gives us the power to write a daring new ending. Struggle, Brené Brown writes, can be our greatest call to courage, and rising strong our clearest path to deeper meaning, wisdom, and hope.
I am obsessed with Brene Brown so this is a hard keep.
Savage Beauty: The Life of Edna St. Vincent Millay – Nancy Milford
Thomas Hardy once said that America had two great attractions: the skyscraper and the poetry of Edna St. Vincent Millay. The most famous poet of the Jazz Age, Millay captivated the nation: She smoked in public, took many lovers (men and women, single and married), flouted convention sensationally, and became the embodiment of the New Woman.
Thirty years after her landmark biography of Zelda Fitzgerald, Nancy Milford returns with an iconic portrait of this passionate, fearless woman who obsessed America even as she tormented herself. 
Chosen by USA Today as one of the top ten books of the year, Savage Beauty is a triumph in the art of biography. Millay was an American original–one of those rare characters, like Sylvia Plath and Ernest Hemingway, whose lives were even more dramatic than their art.
I have never heard of her, and I asked my mom the history teacher what she knew and it wasn't much. I'm super intrigued. I'll keep.
Let's Explore Diabetes with Owls – David Sedaris
A guy walks into a bar car and…
From here the story could take many turns. When this guy is David Sedaris, the possibilities are endless, but the result is always the same: he will both delight you with twists of humor and intelligence and leave you deeply moved. 
Sedaris remembers his father's dinnertime attire (shirtsleeves and underpants), his first colonoscopy (remarkably pleasant), and the time he considered buying the skeleton of a murdered Pygmy. 
With Let's Explore Diabetes with Owls, David Sedaris shows once again why his work has been called "hilarious, elegant, and surprisingly moving" (Washington Post).
I was going to ditch this one, but then I saw how some of my favorite and most reliable reader friends rated this. I'll give this one a shot. Keep.
Tenth of December – George Saunders
One of the most important and blazingly original writers of his generation, George Saunders is an undisputed master of the short story, and Tenth of December is his most honest, accessible, and moving collection yet.
In the taut opening, "Victory Lab," a boy witnesses the attempted abduction of the girl next door and is faced with a harrowing choice: Does he ignore what he sees, or override years of smothering advice from his parents and act? In "Home," a combat-damaged soldier moves back in with his mother and struggles to reconcile the world he left with the one to which he has returned. And in the title story, a stunning meditation on imagination, memory, and loss, a middle-aged cancer patient walks into the woods to commit suicide, only to encounter a troubled young boy who, over the course of a fateful morning, gives the dying man a final chance to recall who he really is. A hapless, deluded owner of an antique store; two mothers struggling to do the right thing; a teenage girl whose idealism is challenged by a brutal brush with reality; a man tormented by a series of pharmaceutical experiments that force him to lust, to love, to kill—the unforgettable characters that populate the pages of Tenth of December are vividly and lovingly infused with Saunders' signature blend of exuberant prose, deep humanity, and stylistic innovation.
Writing brilliantly and profoundly about class, sex, love, loss, work, despair, and war, Saunders cuts to the core of the contemporary experience. These stories take on the big questions and explore the fault lines of our own morality, delving into the questions of what makes us good and what makes us human.
Unsettling, insightful, and hilarious, the stories in Tenth of December—through their manic energy, their focus on what is redeemable in human beings, and their generosity of spirit—not only entertain and delight; they fulfill Chekhov's dictum that art should "prepare us for tenderness."
I am not a short story person really, and the reviews on this seem like a mixed bag. Because of that I'm going to ditch.
Everything Here is Beautiful – Mira T. Lee
Two sisters: Miranda, the older, responsible one, always her younger sister's protector; Lucia, the vibrant, headstrong, unconventional one, whose impulses are huge and, often, life changing. When their mother dies and Lucia starts to hear voices, it's Miranda who must fight for the help her sister needs — even as Lucia refuses to be defined by any doctor's diagnosis. 
Determined, impetuous, she plows ahead, marrying a big-hearted Israeli only to leave him, suddenly, to have a baby with a young Latino immigrant. She will move with her new family to Ecuador, but the bitter constant remains: she cannot escape her own mental illness. Lucia lives life on a grand scale, until inevitably, she crashes to earth. And then Miranda must decide, again, whether or not to step in — but this time, Lucia may not want to be saved. The bonds of sisterly devotion stretch across oceans, but what does it take to break them?
Told from alternating perspectives, Everything Here Is Beautiful is, at its core, a heart-wrenching family drama about relationships and tough choices — how much we're willing to sacrifice for the ones we love, and when it's time to let go and save ourselves.
This seems beautiful and seems like my exact wheelhouse. Keep.
Transit – Cameron Awkward-Rich
Poetry. African American Studies. "Cameron Awkward-Rich's wintry collection is full of broken surfaces. Fists surge in bodies, blades cleave skin, but most recurrent, a boy dives into black water. Think of an anti-Narcissus who longs to break the liquid mirror, both fractalizing and multiplying his image. Yet the poet winds tight TRANSIT's shifting reflections of puncture and fracture into poems of great tonal discipline and grimly mordant observation, pushing us deeper into memory into myth into girl into bird into mouth into sex onto cars onto trains into your hands, reader. Open the book and get opened by it." Douglas Kearney"
This sounds phenomenal. Keep.
A Shore Thing – Nicole "Snooki" Polizzi
It's a summer to remember . . . at the Jersey Shore.
Giovanna "Gia" Spumanti and her cousin Isabella "Bella" Rizzoli are going to have the sexiest summer ever. While they couldn't be more different—pint-size Gia is a carefree, outspoken party girl and Bella is a tall, slender athlete who always holds her tongue—for the next month they're ready to pouf up their hair, put on their stilettos, and soak up all that Seaside Heights, New Jersey, has to offer: hot guidos, cool clubs, fried Oreos, and lots of tequila.
So far, Gia's summer is on fire. Between nearly burning down their rented bungalow, inventing the popular "tan-tags" at the Tantastic Salon where she works, and rescuing a shark on the beach, she becomes a local celebrity overnight. Luckily, she meets the perfect guy to help her keep the flames under control. Firefighter Frank Rossi is exactly her type: big, tan, and Italian. But is he tough enough to handle Gia when things really heat up?
Bella is more than ready for some fun in the sun. Finally free of her bonehead ex-boyfriend, she left home in Brooklyn with one goal in mind: hooking up with a sexy gorilla for a no-strings-attached summer fling. In no time, she lands a job leading "Beat Up the Beat" dance classes at a local gym, and is scooped up by Beemer-driving, preppy Bender Newberry. Only problem: Bella can't get her romantic and ripped boss Tony "Trouble" Troublino out of her head. He's relationship material. Suddenly, Bella's not sure what she wants.
The cousins soon realize that for every friend they make on the boardwalk, there are also rivals, slummers, and frenemies who will do anything to ruin their summer—and try their relationship. Before July ends, the bonds of family and friendship will be stretched to the breaking point. Will the haters prevail, or will Gia and Bella find love at the Shore?
For everyone who loves MTV's hit reality show, Nicole "Snooki" Polizzi's sweet, funny, and sexy novel perfectly captures the heat, the energy, the fun, and the drama of Jersey Shore.
I have zero shame in how much I loved Jersey Shore so I will for sure be keeping this one.
The Destiny of Violet & Luke – Jessica Sorensen
Luke Price's life has always been about order, control, and acting tough on the outside. For Luke, meaningless relationships are a distraction-a way to tune out the twisted memories of his childhood. He desperately wishes he could forget his past, but it haunts him no matter what he does.
Violet Hayes has had a rough life. When she was young, she was left with no family and the memory of her parents' unsolved murders. She grew up in foster homes, living with irresponsible parents, drugs, and neglect, and trying to fight the painful memories of the night her parents were taken from her. But it's hard to forget when she never got closure-and she can't stop dreaming about what happened that tragic night. To make it through life, she keeps her distance from everyone and never allows herself to feel anything.
Then Violet meets Luke. The two clash instantly, yet they can't seem to stay away from each other. Although they fight it, they both start to open up and feel things they've never felt before. They discover just how similar they are. But they also discover something else: The past always catches up with you . . .
I have been wanting to try new adult but haven't good things about the genre in general. However somehow this is on my TBR and I have no clue why as most of my GoodReads friends haven't ever even shelved it. I think I'll keep it. I'll give it a shot.
Love and Lists – Tara Sivec
Love and Lists is the first book in the Chocolate Lovers spinoff – Chocoholics: The foul-mouthed offspring tell their stories.
Twenty-five-year-old Gavin Ellis has always had the love and support of his family ever since he was a little boy and couldn't stop talking about his penis. He's also always had their unsolicited advice and uncanny knack of embarrassing him at all costs. Now that he's an adult and trying to convince the love of his life to love him back, things haven't changed very much from when he was younger.
When Gavin's best friend Tyler suggests he make a to-do list of items that will ensure he wins the girl, Gavin is one-hundred-percent on board: after a few six packs.
After puking in the shrubs, a bad experience with Viagra, a Sex-Ed course gone wrong, and a slew of other mishaps courtesy of his family and friends, Gavin is pretty sure this list will be the death of him.
Sometimes, trying to make someone love you with a list isn't always the best idea. Especially when "Show her your penis" is the first "to-do" item…
Uhhhhh that last line is enough for me to ditch.
F*ck Love – Tarryn Fisher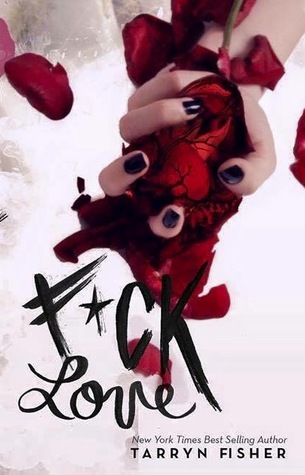 Helena Conway has fallen in love.
Unwillingly. Unwittingly.
But not unprovoked.
Kit Isley is everything she's not—unstructured, untethered,
and not even a little bit careful.
It could all be so beautiful … if he wasn't dating her best friend.
Helena must defy her heart, do the right thing, and think of others.
Until she doesn't.
A great friend of mine really loves Tarryn Fisher so I think I'll give her a shot. Keep.
In summary:
I kept 80% of the books presented in this round:
"Rising Strong" – Brene Brown
"Savage Beauty" – Nancy Milford
"Let's Explore Diabetes with Owls" – David Sedaris
"Everything Here is Beautiful" – Mira T. Lee
"Transit" – Cameron Awkward-Rich
"A Shore Thing" – Nicole "Snooki" Polizzi
"The Destiny of Violet and Luke" – Jessica Sorensen
"F*ck Love" – Tarryn Fisher
I ditched 20% of the books presented in this round:
"Tenth of December" – George Saunders
"Love and Lists" – Tara Sivec
(this post does contain affiliate links that help me keep the site going. please consider purchasing using these links if you're interested in this book! thanks so much xo r)
Follow Rachel Reading: GoodReads | Instagram | Facebook | BlogLovin